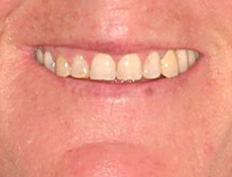 Before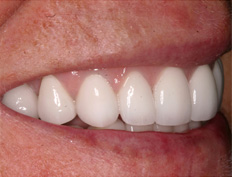 After
Smile Makeover:
In this makeover Karen wanted a smile with larger, contoured, whiter teeth. The shade was chosen looking at the shade guide on the counter rather than up against her skin and lips. It is important to discuss color relative to skin tones.
Porcelain crowns were done throughout the mouth.
While both doctor and patient were delighted with the result, both doctor and patient agree that a half shade less bright would have been better.
Learning: Many people desire larger, more attractive, whiter teeth. Select color Next to mouth.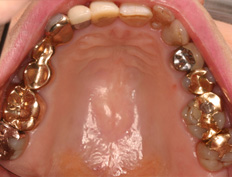 Before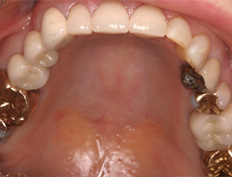 After
Partial smile makeover:
Betty had a limited smile makeover done to line up uneven, worn teeth and to replace older failing metal restorations. She was very happy with the color, contour, and re-alignment. Careful analysis and a preoperative wax up allows us to see when teeth can be aligned without braces. Preparation guides are fabricated to assist the doctor's preparation, which allows the ceramist enough room to make alignment in final restorations.
Learning: Misaligned, crooked teeth can sometimes be straightened without wearing braces. Note how straight the four front incisors are in the after picture.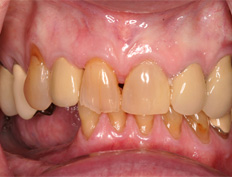 Before
Patient presented with a very worn dentition and an unattractive smile.
Consultation with her suggested the use of dental implants for missing teeth and crowns for the badly worn existing teeth. She chose removable partial dentures to replace teeth rather than implants.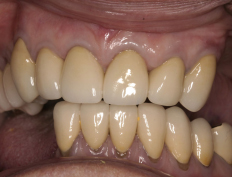 Crowns placed; restoring worn, misshapen teeth.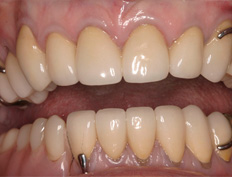 After
After partial denture placement. Patient has a low lip line/minimal reveal and without photographic retractors does not show much of the clasps and was very happy with her smile.
Learning: We offer recommendations, but give our patients choices.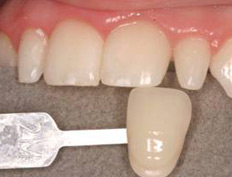 Before
Bonding can be used to change the shape, color, and size of teeth. In this case Katherine desired both lateral incisors, adjacent to the two front teeth, to be normal size rather then "pegs". First we picked a color.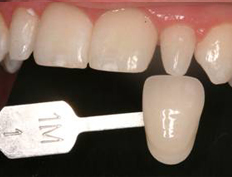 Then we determined translucency.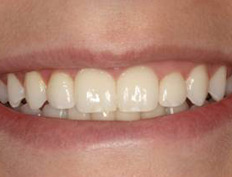 After
After bonding of "peg" laterals have been completed.
Learning: Dramatic changes can be made very conservatively!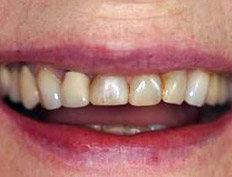 Before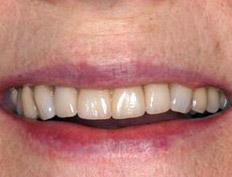 After
All Porcelain crowns can be used to change, or enhance a smile. Marie had a reverse smile (incisal edges don't round down toward lower lip), and significant asymmetry. Her back teeth were not cosmetically ideal either. Marie decided she only wanted to change her front teeth. All porcelain crowns were placed on her four upper front teeth.
Learning: A partial smile makeover can be enough to satisfy many patients.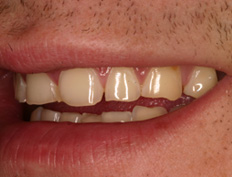 Before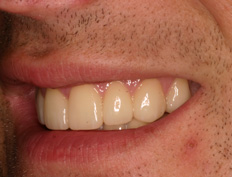 After
A young person with short, worn teeth wanted significant improvement.
Learning: Our newest all-ceramic crown material provides a translucent beauty similar to natural enamel.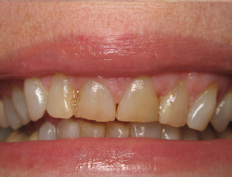 Before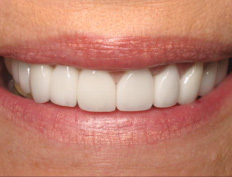 After
Dreams Come True!!
Some patients want very white teeth, though we caution against overly opaque, white crowns.
Learning: We listen to what our patients want!
Full Mouth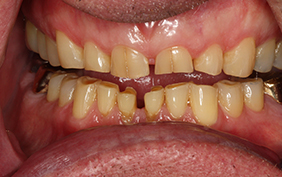 Before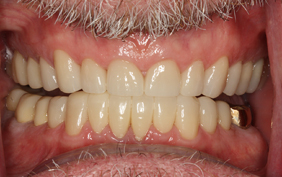 After
Our Patient had changes in the joint that caused the left teeth to hit heavy and abscess the gold crown. He was a heavy nighttime grinder and had significant wear and shortening of the teeth, A full smile/bite makeover involving provisional steps was done to make the teeth fit the changed joint position. The gold crown is being replaced with an implant.
  Learning: An understanding of joint health is key to a makeover that will be comfortable and durable.
Before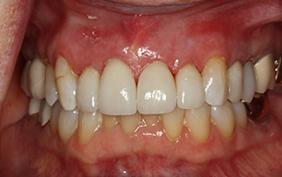 After
Partial Smile Makeover: The patient was only concerned with strength and esthetics of his front upper 4 teeth.
  Learning: Just 4 Teeth may satisfy some patient's desires.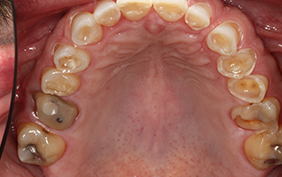 Before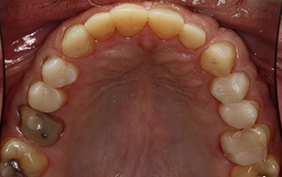 After
Acid Reflux or GERD can destroy your teeth. As a interim step to a full smile makeover, we were able to re-open his bite and cover the eroded areas with provisional bonding. He is receiving treatment for acid reflux and sleep apnea.
  Learning: Acid reflux often times is associated with sleep apnea. We can save his teeth till he can afford crowns at this new bite position.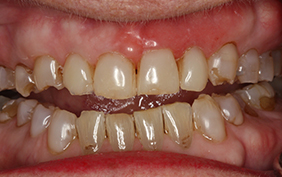 Before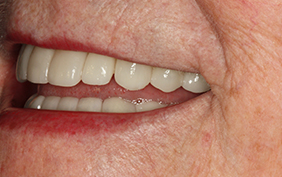 After
Full smile makeover : Our patient had worn, eroded , Short teeth that were beginning to break.
  Learning: We were able to prevent loss of teeth and revitalize her smile with longer esthetic crowns
Chairside Resin Veneer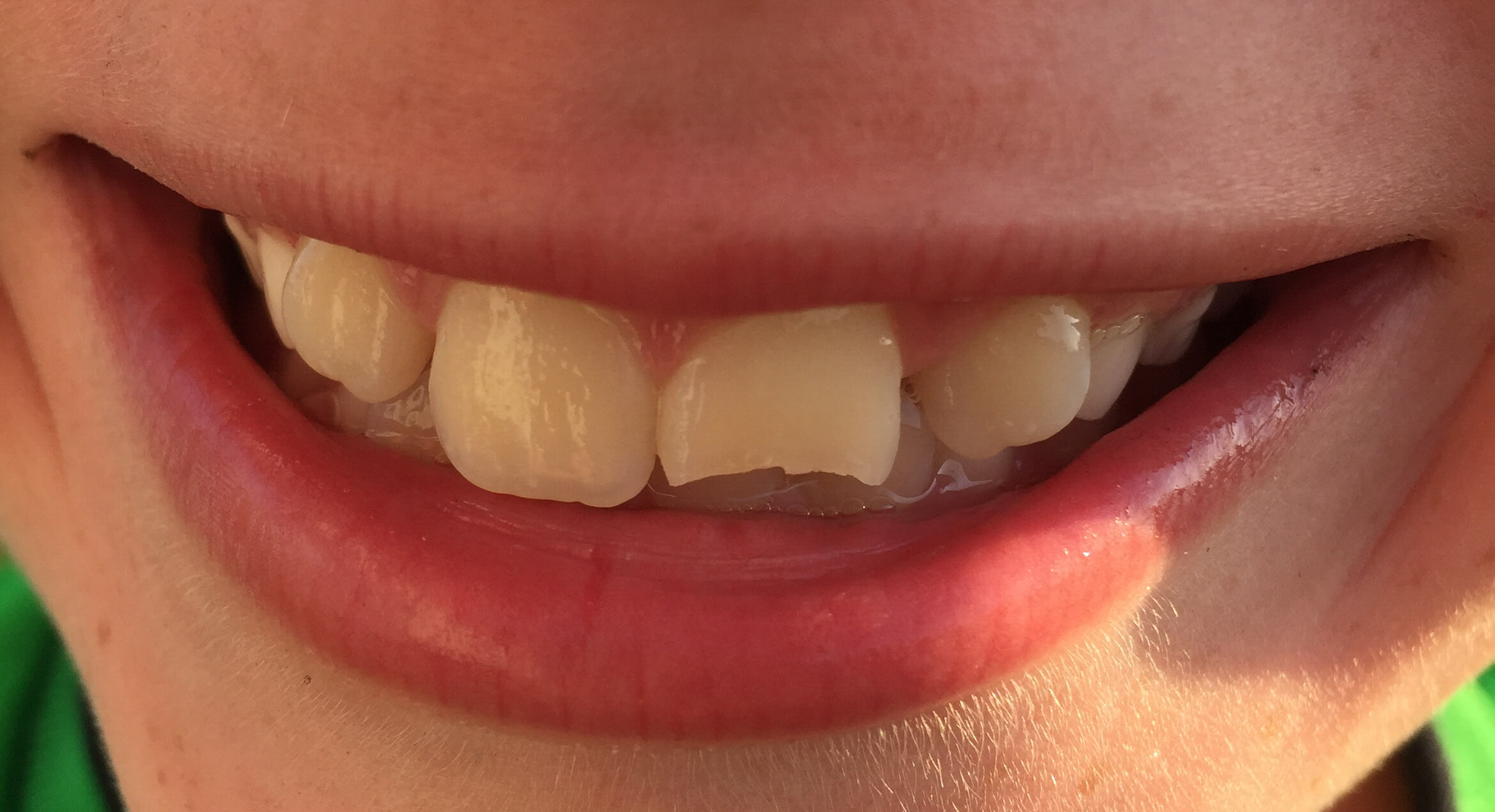 Chipped Tooth Before Treatments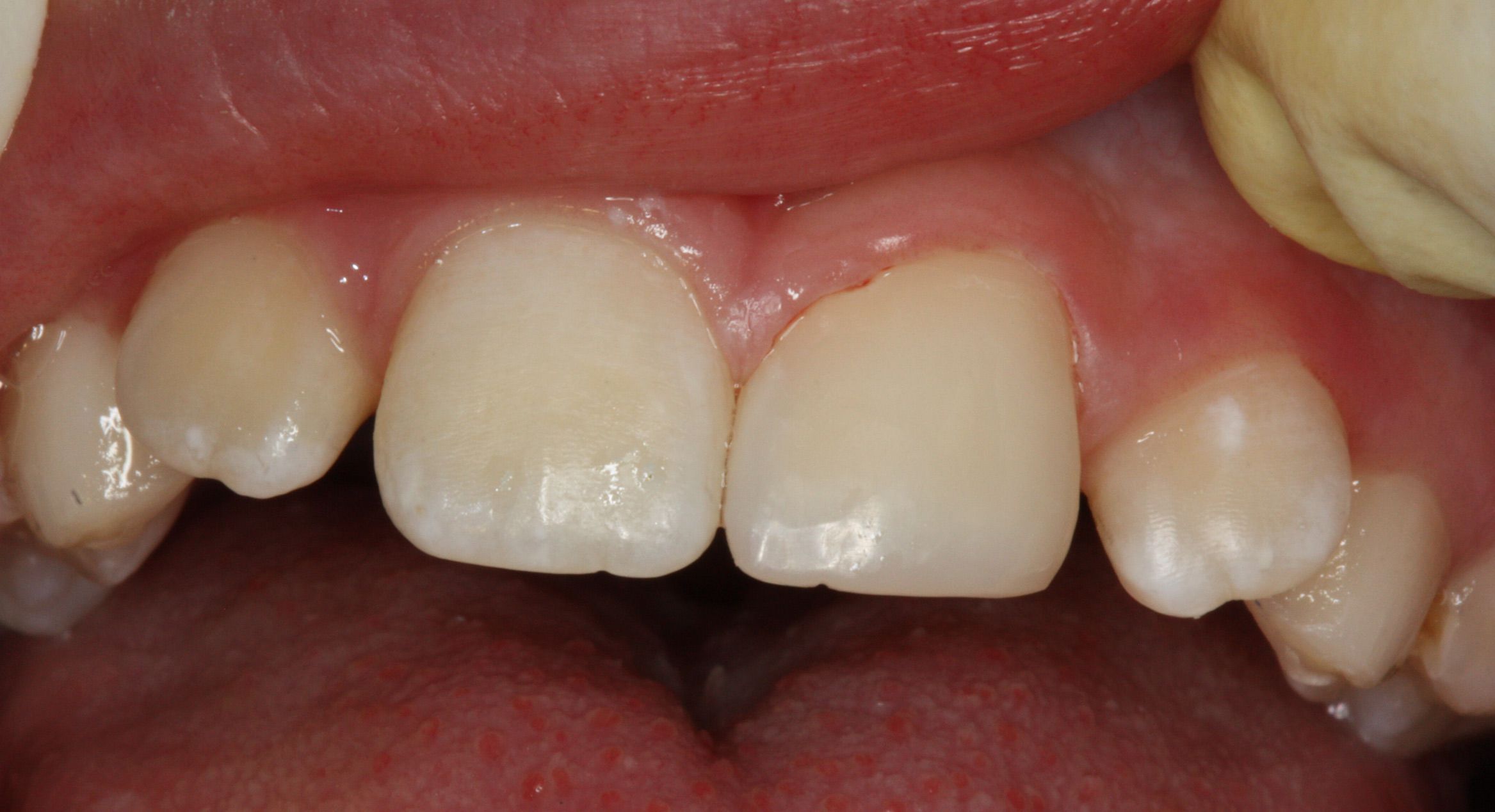 After Free Hand Bonding.
Bonded White Fillings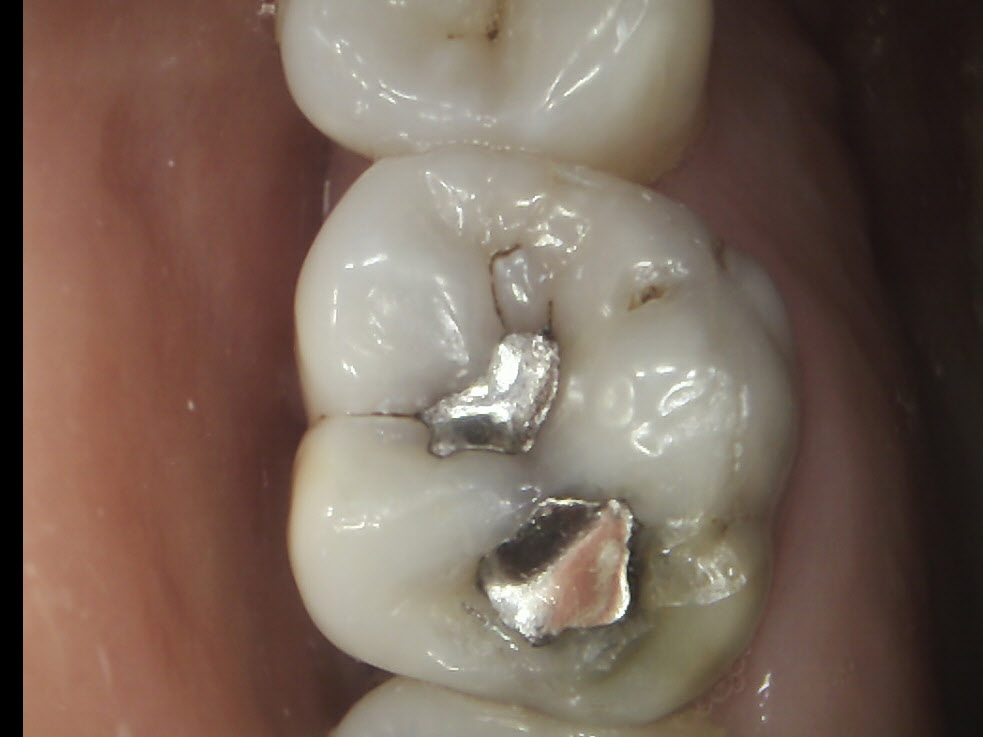 Old silver fillings with recurrent decay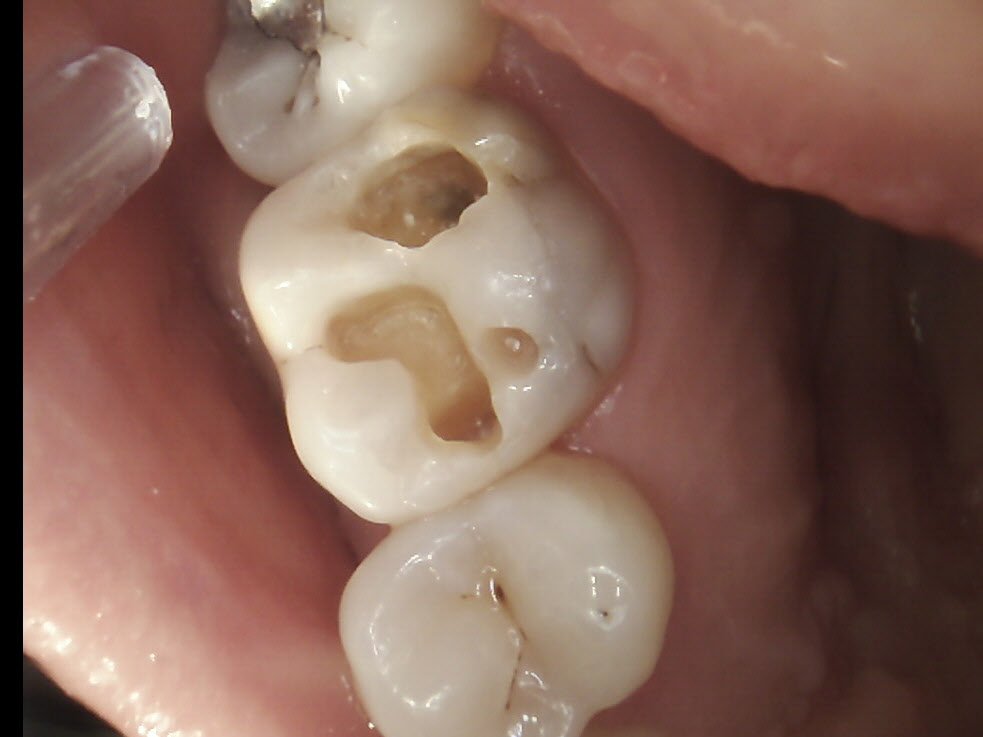 Prepared for Fillings.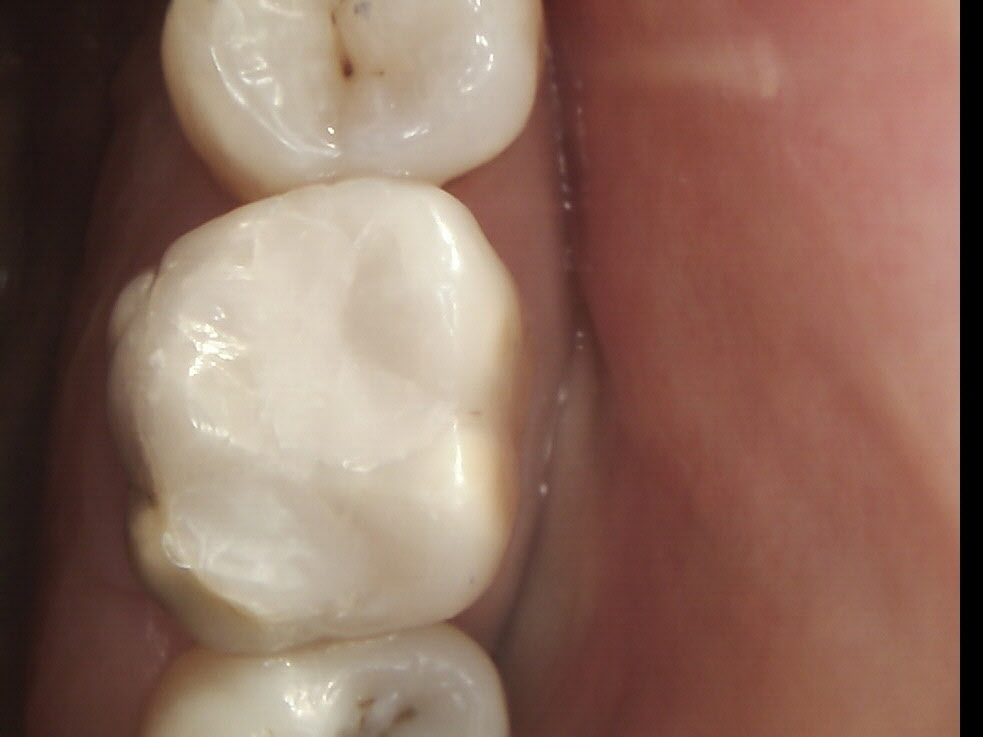 Fillings Completed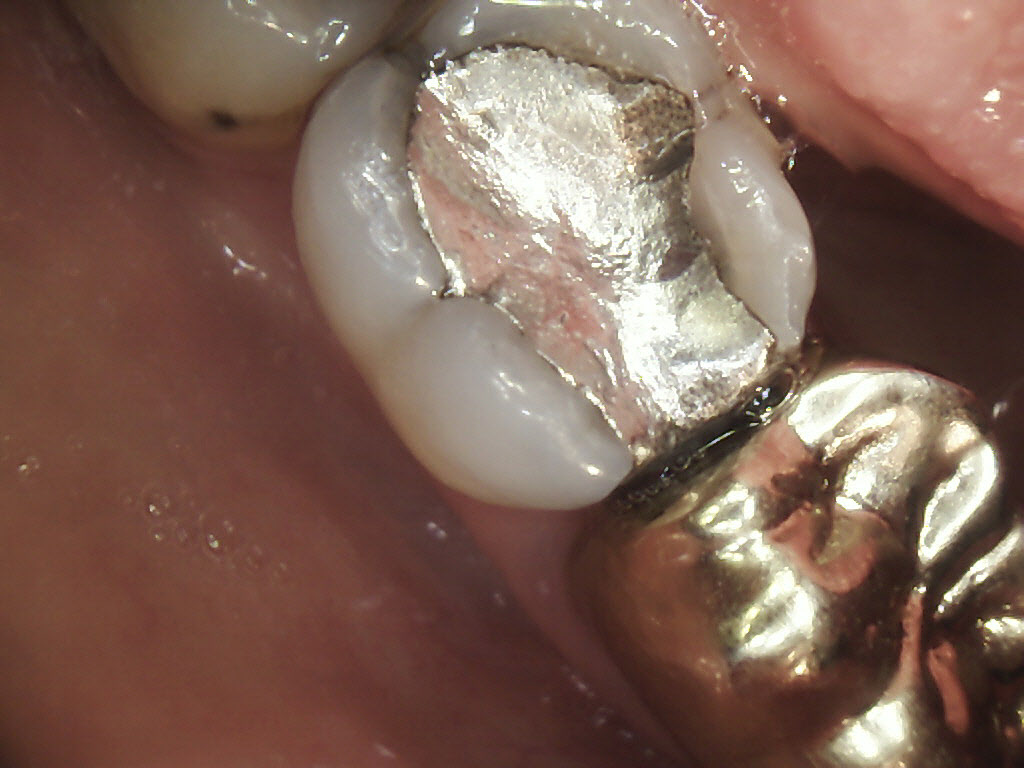 Very Large Failing Amalgam Filling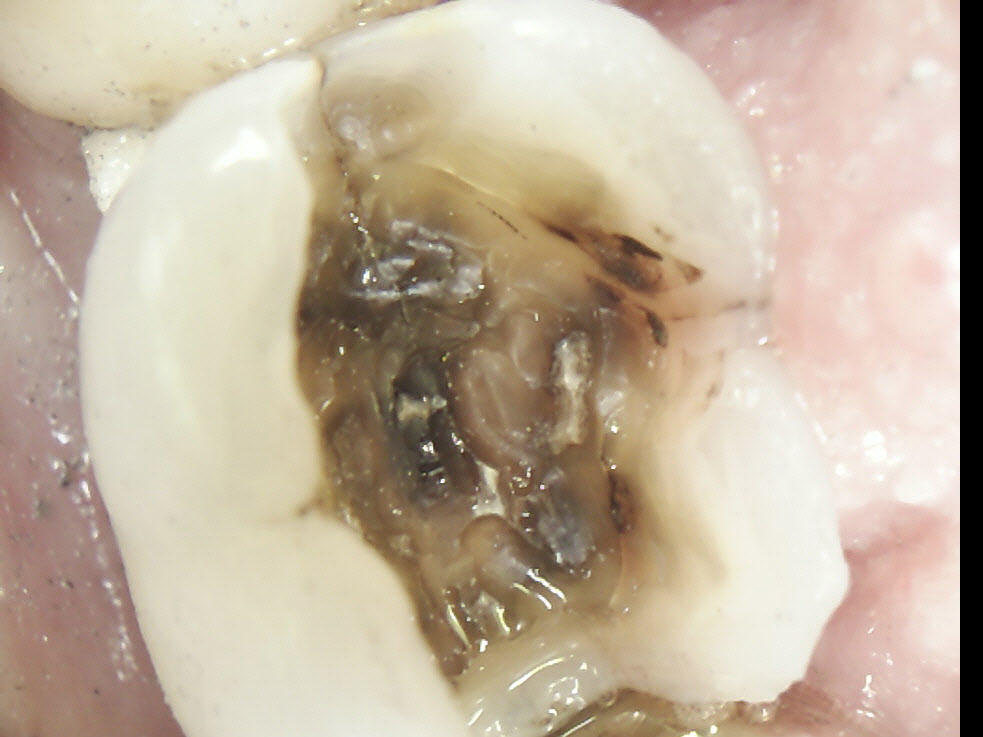 Showing Decay and Stain After Removal of Failing Filling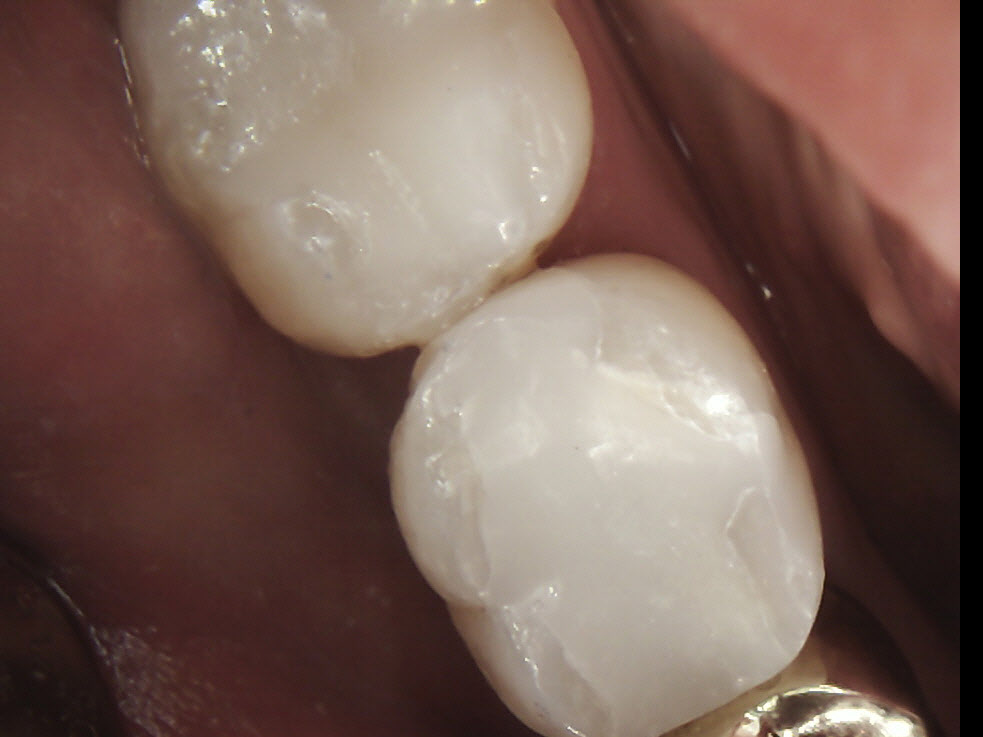 Completed Composite Filling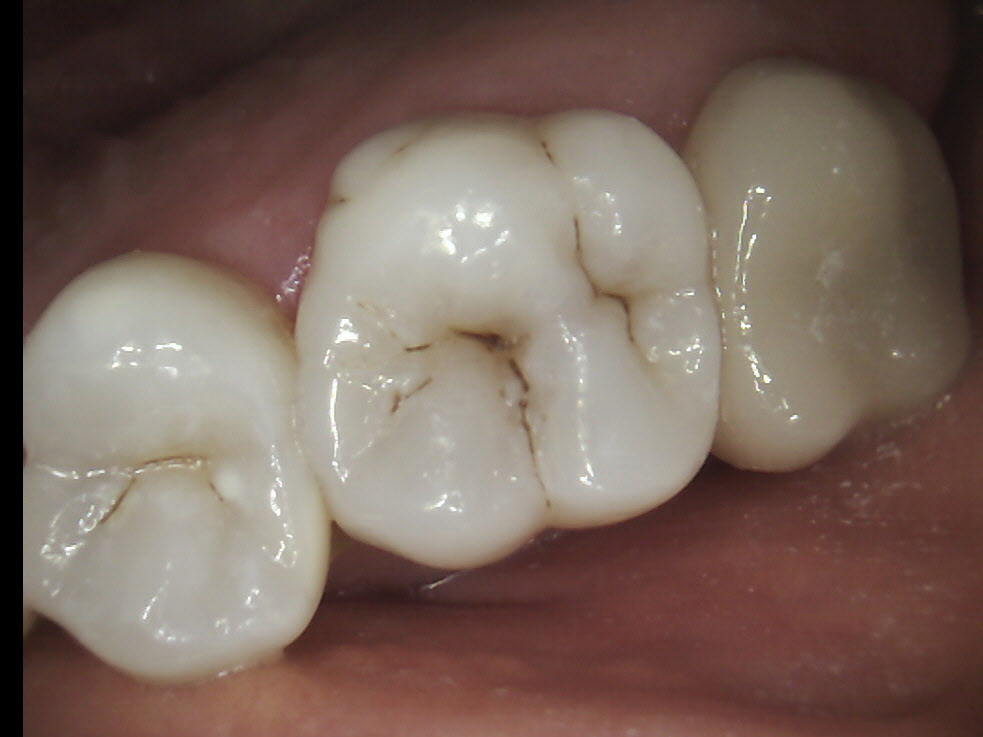 Beginning Decay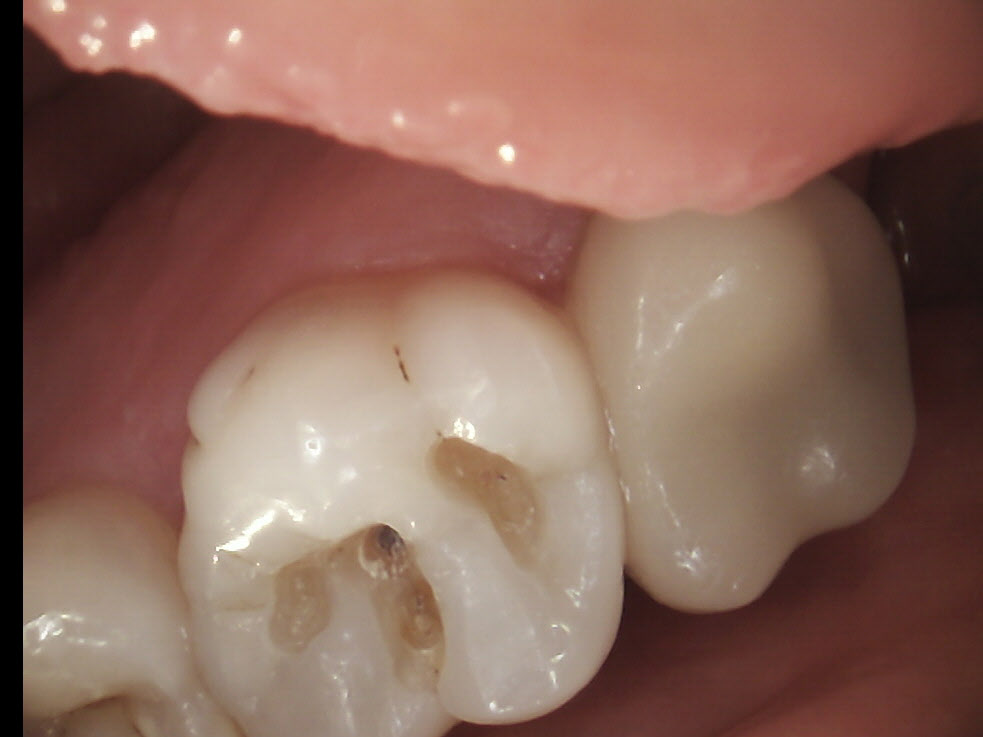 Surprise! Deeper Decay in the center of the Tooth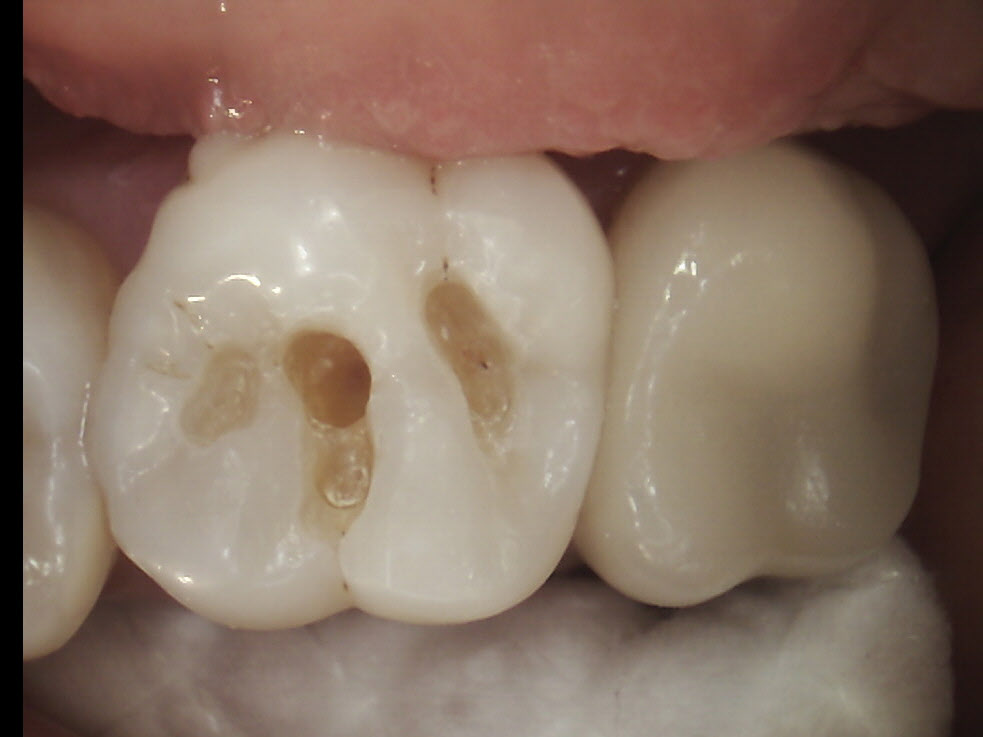 All decay removed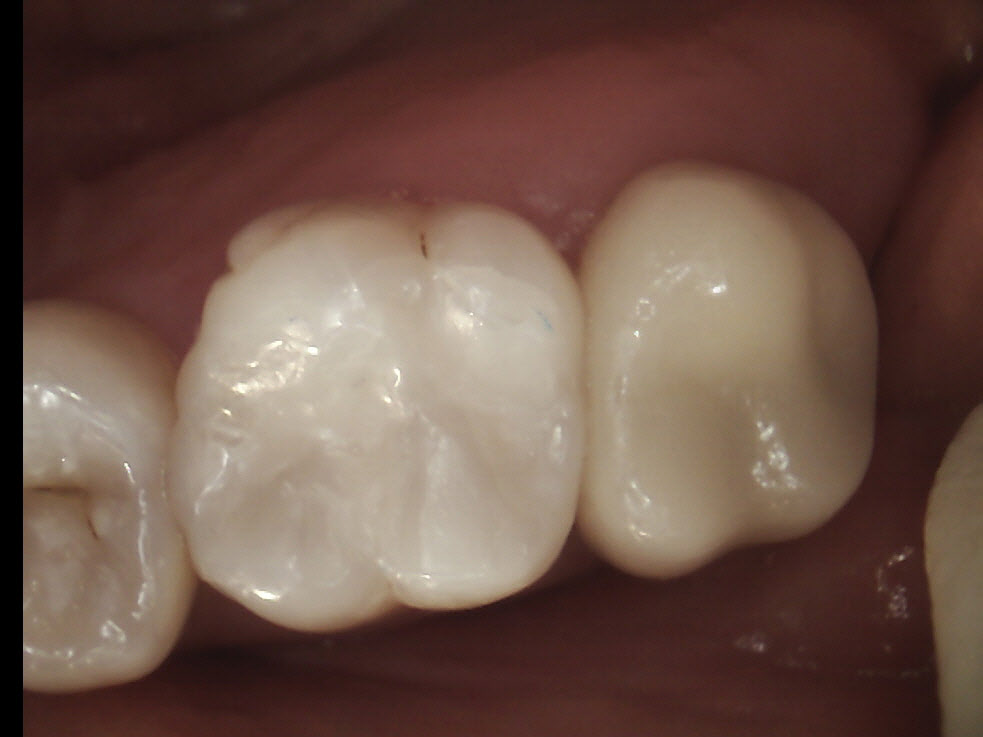 Completed composite restoration
Gum Regeneration ( Grafting)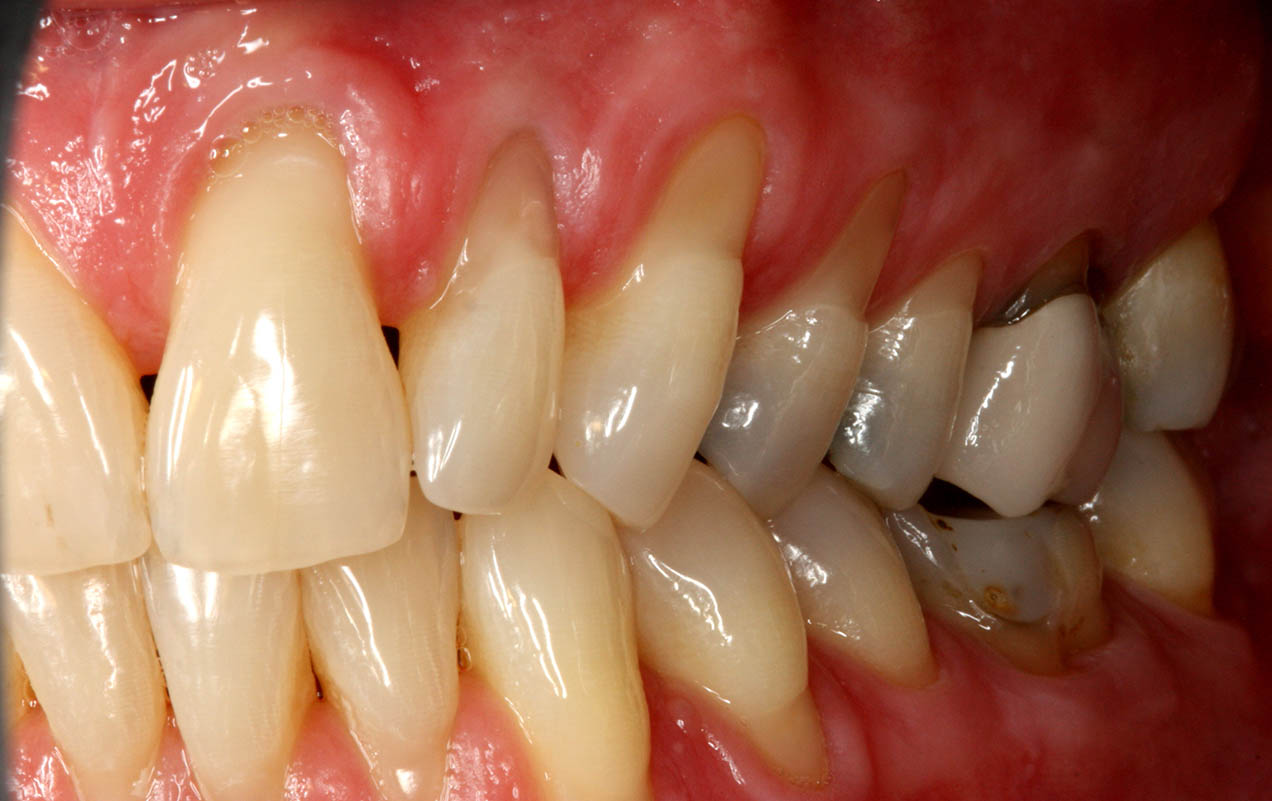 Severe recession in an older gentleman.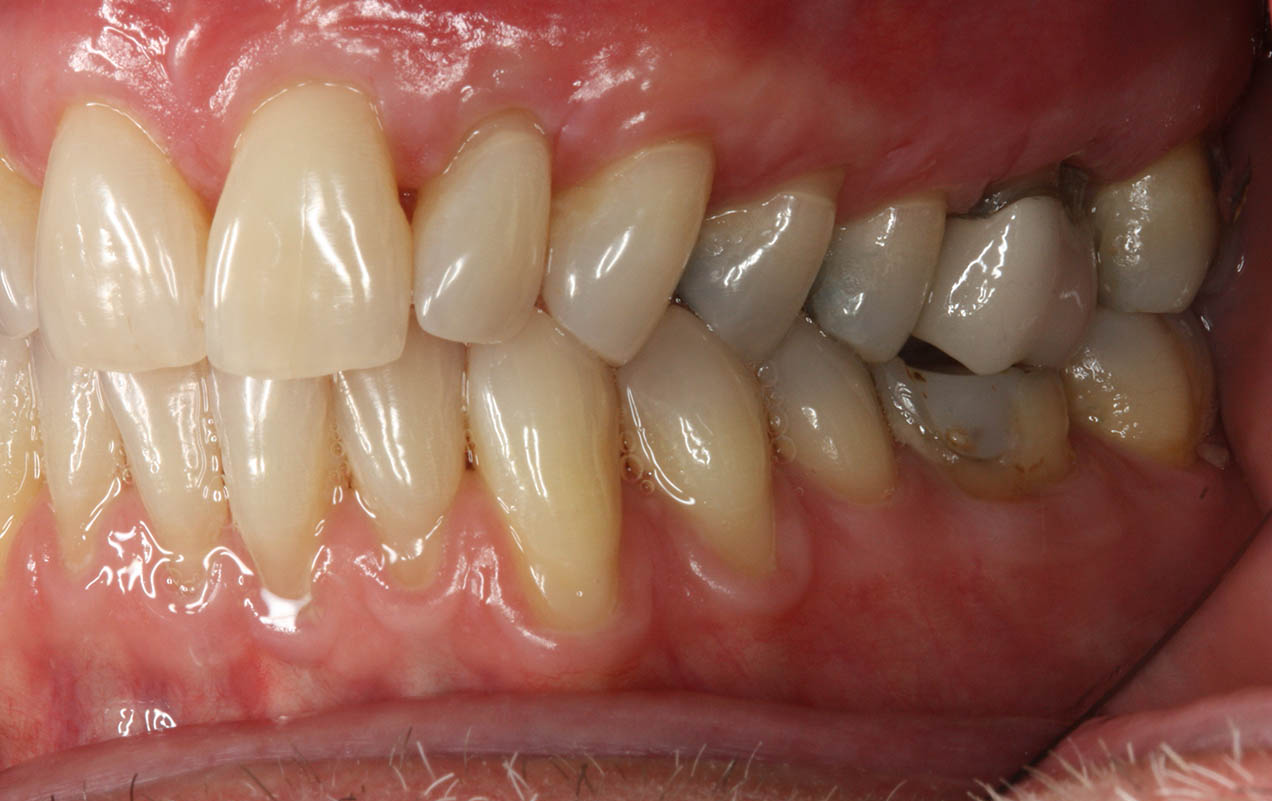 Treating upper left quadrant (6 teeth). Showing great restoration with alloderm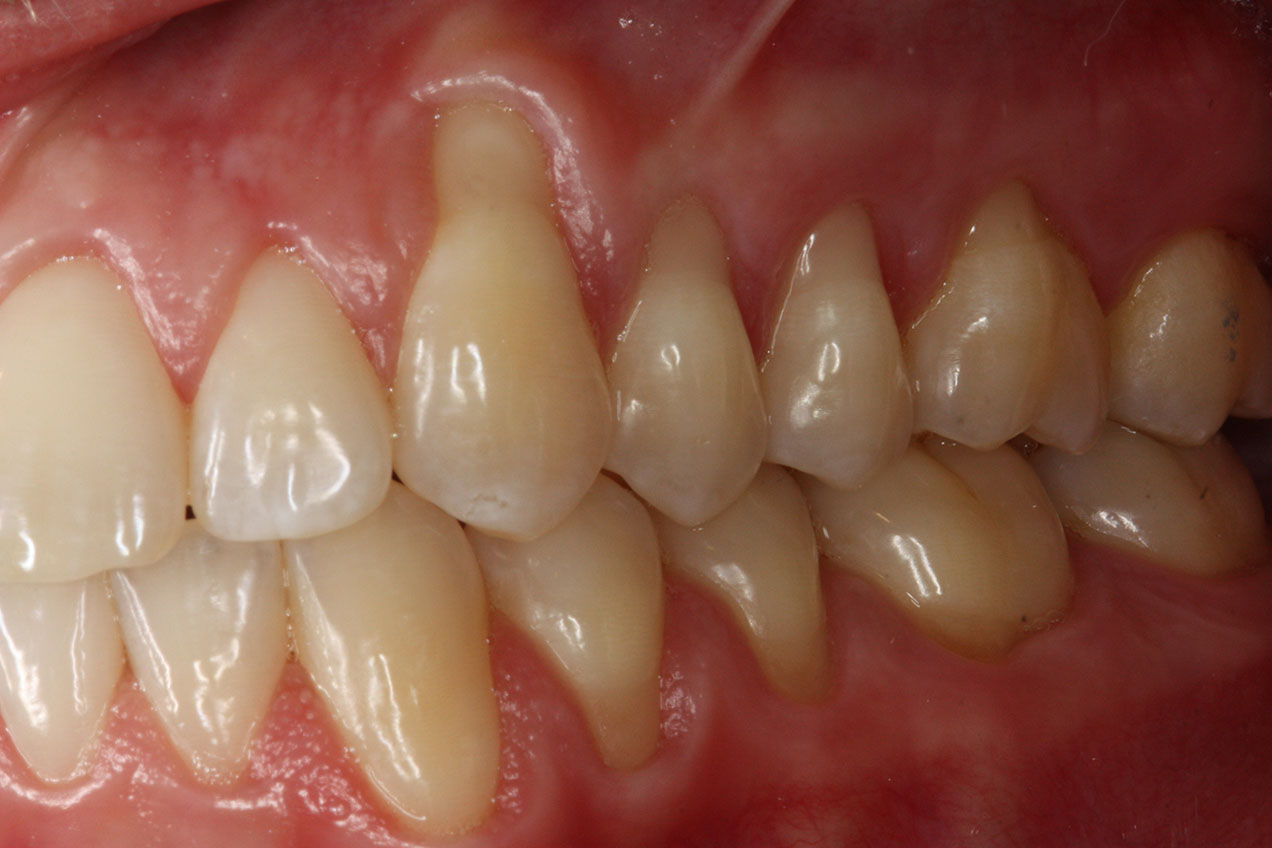 Significant recession in a 27 year old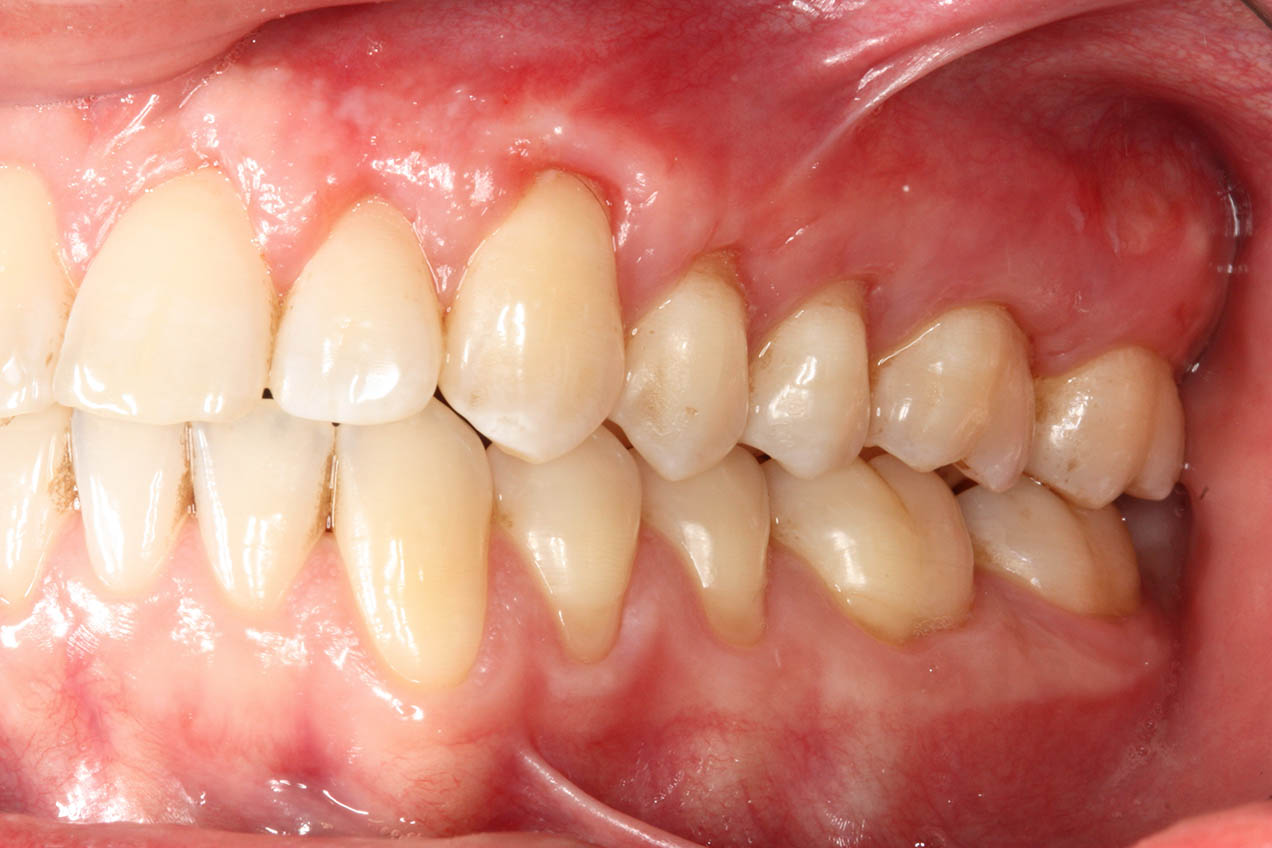 Upper left quadrant showing very nice regeneration and thicker tissue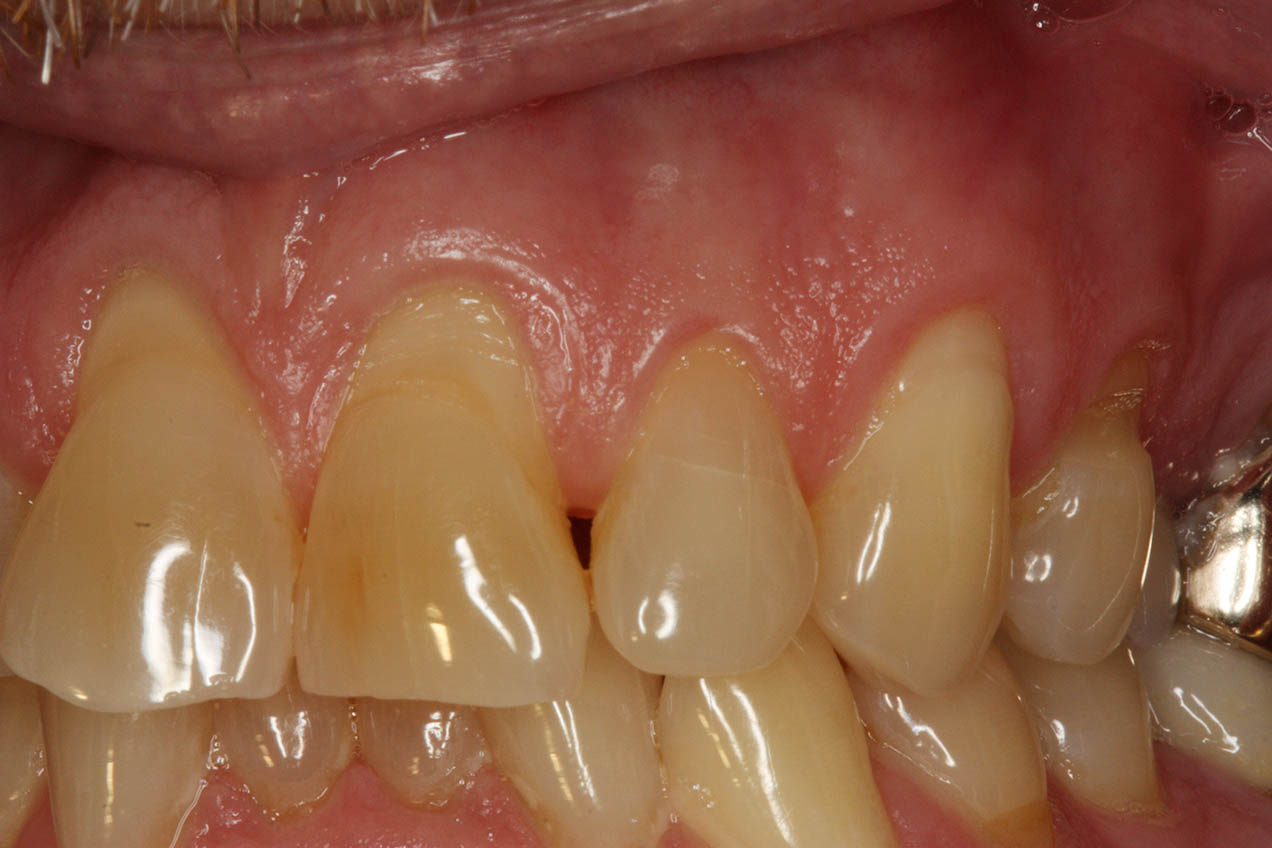 Patient's big smile showing long teeth and yellowish roots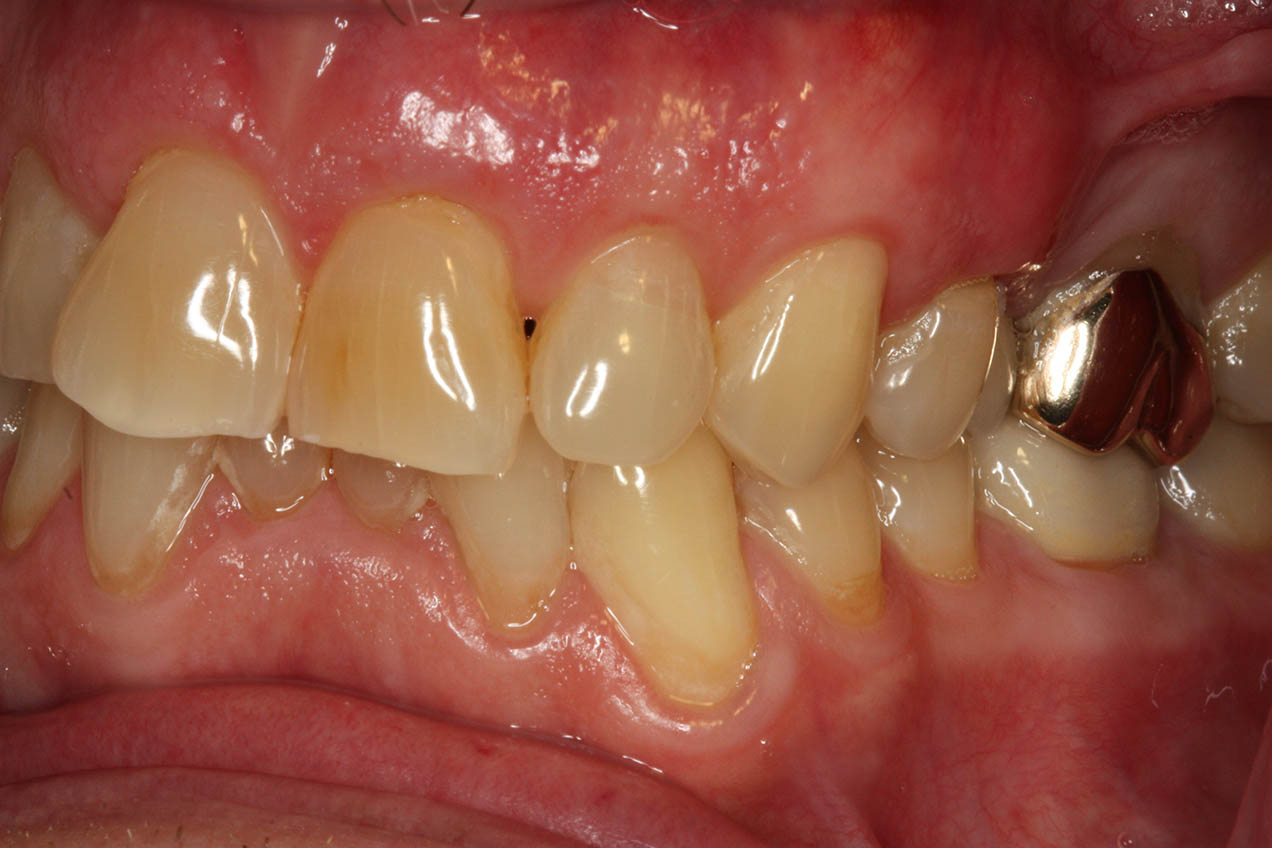 Five teeth grafted, patient very pleased with results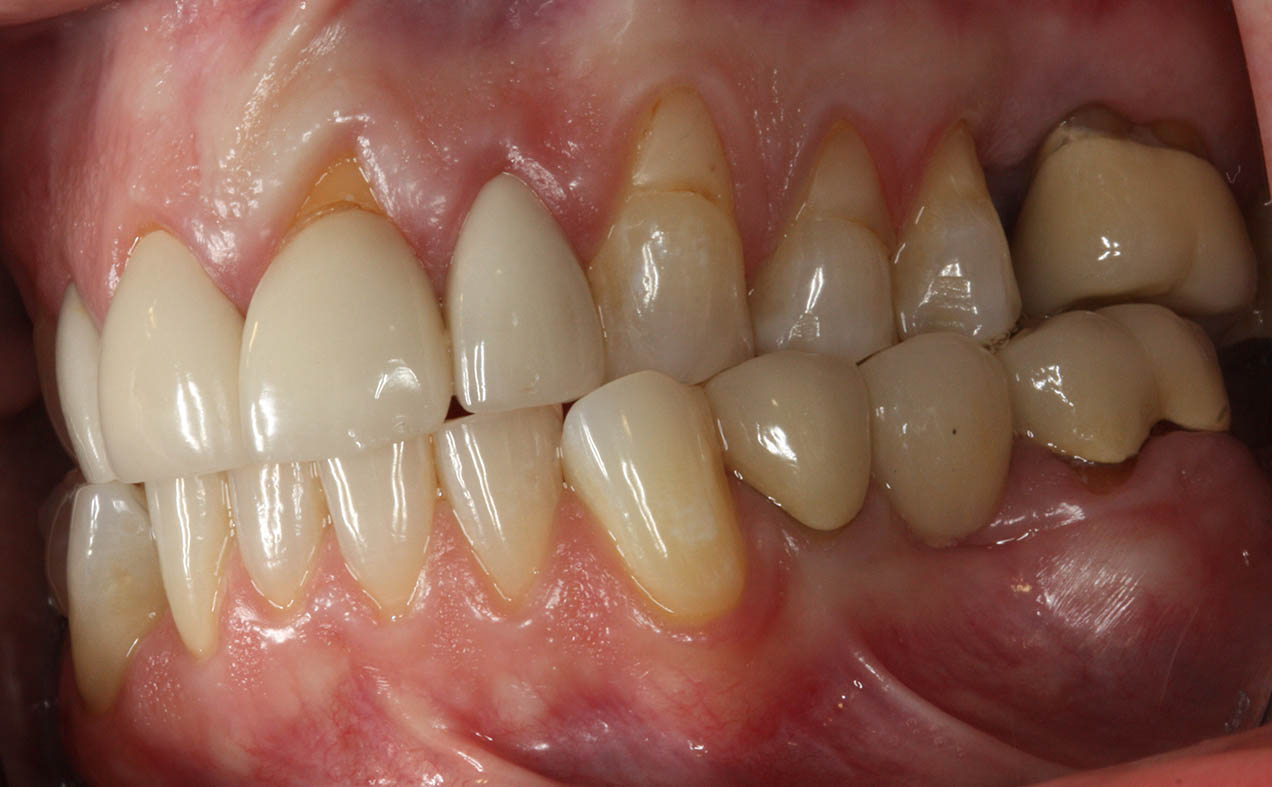 Previous dentist tried to disguise roots with white fillings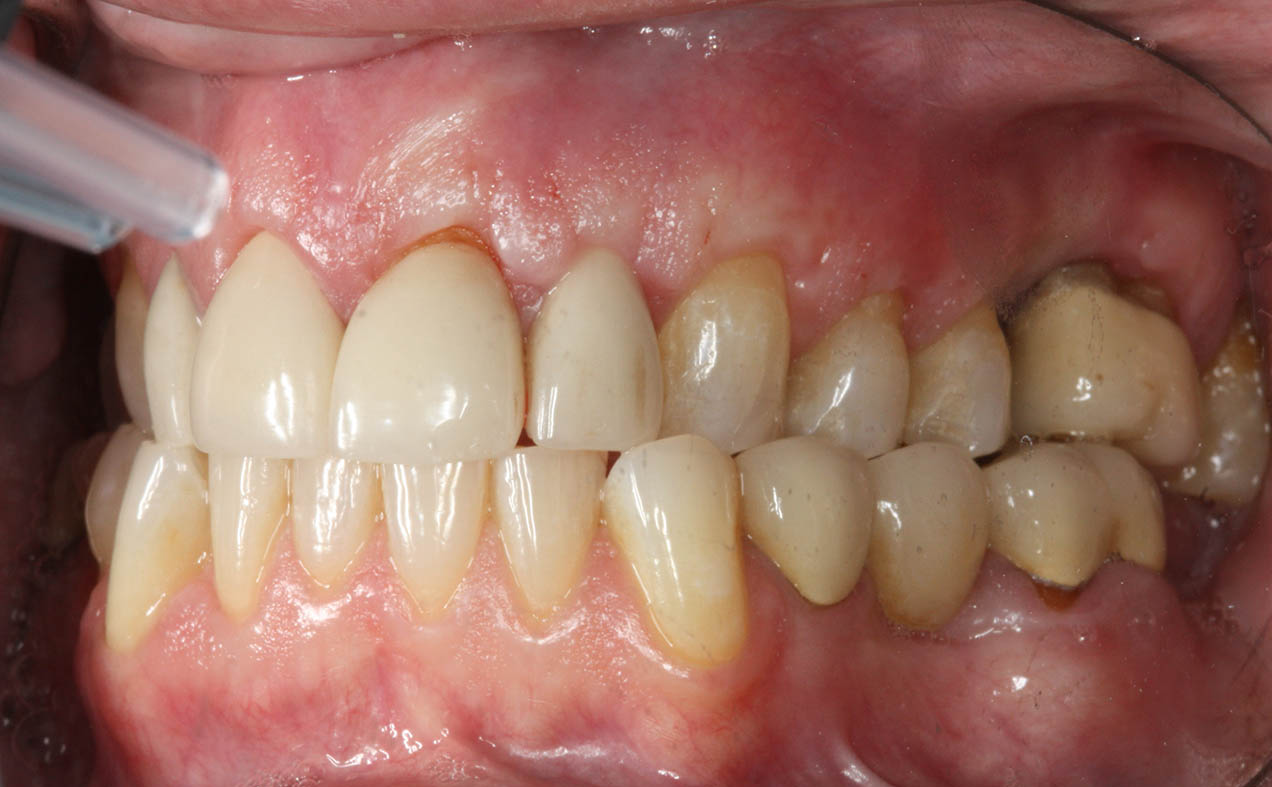 White fillings were removed, five teeth were grafted. Teeth have thicker tissue and regeration with alloderm